RODEO | blinds & Shutters
Enjoy your windows in a new light. Rodeo Blinds sells and installs the Somfy motorized system from France. These motorized window blinds and shades offer convenience at the touch of a button, so you can relax and enjoy the view. Due to our years of experience in the industry, we are able to install the best-motorized systems for your blinds, shades, and drapery needs. Reach out to us about our latest motorized window coverings in Los Angeles, CA.
If you'd rather not concern yourself with cords and manually operated window coverings, consider motorized drapery. You will not struggle to adjust window shades in hard-to-reach windows. Our window treatments can also be programmed to automatically close at dusk as you switch on your light. You can even control them wirelessly. In addition, they are very quiet systems that are easy to operate. Ask about our one-year full warranty as well!
Contact us to save energy and enjoy the smooth operation of a motorized shade. We serve all of Southern California, including Los Angeles, Santa Monica,Long Beach, Beverly Hills, Malibu, Pasadena, Glendale, Burbank, Calabasas, West Hollywood, Torrance, Marina del Rey, Redondo Beach, Santa Clarita, Torrance, Manhattan Beach, Gardena and the surrounding areas.
View Our Motorized Window Coverings
Please check back soon for more information and images on our motorized window coverings. In the meantime, please feel free to contact us.
Operating Options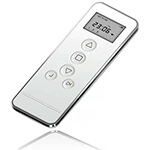 Remote Control
The easy way to spread and introduce the beauty of coming out from the Waterfall Woven Wood Shade is the Cord Lift. Similarly, wrapping up this natural beauty is easy with cord lift.

Continuous Cord
Select the continuous cord loop to wrap up or down Waterfall Woven Wood Shade in a uniform and practical method. Furthermore, cord tension locks take away your safety worries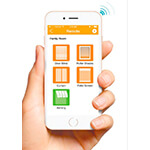 Smart Phones
Wrapped up or roll back Motorized Waterfall Woven Wood Shade without leaving your place. So of my programmed solutions let you enjoy your sleep without any sunlight interruption.